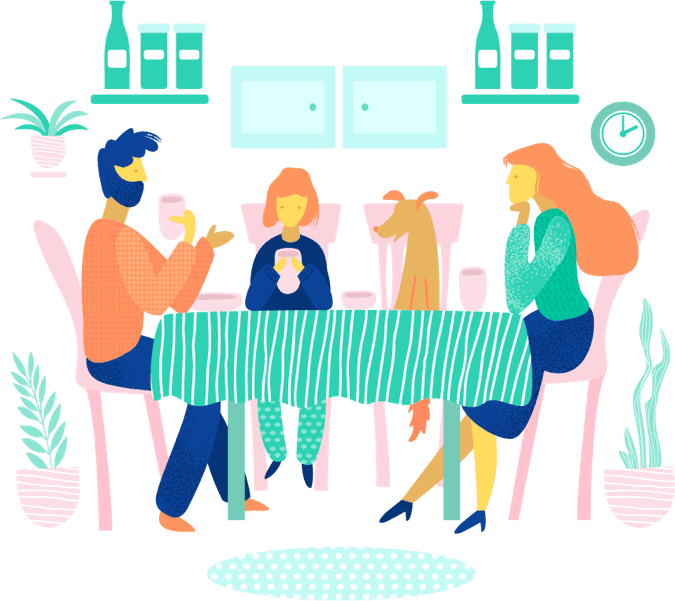 Shaping, Complementing, and Enhancing a Healthy Lifestyle
A healthy outside starts from the inside. Wellness is more than just nutrition and physical fitness. It's the complete unification of body, mind, and spirit. Live healthier, feel better.
Eating healthy can be difficult when you have to juggle work and your family. With so much going on, finding the time to make healthy meals is not always easy–and we get it. That is why we are dedicated to bringing you simple, healthy recipes that will make you and your family feel good inside and out. The best part? Most of these recipes take 30 minutes or less to prepare, and they can be made with easy-to-find ingredients that won't break the bank.
Who said eating healthy can't be fun and delicious?
All pancake lovers, please stand up! Crepes are basically thin pancakes you didn't know you needed to try. Tired of eating the same old thing
Read More →
Did you know that fruit juice isn't that different from sugary soft drinks? Or that eggs are one of the healthiest foods you can eat? The articles in our nutrition facts section will answer all your nutrition questions and provide you with factual, reliable information about foods to make eating healthy easy and simple.
From little-known nutritional facts to myths and common misconceptions, we provide you with all you need to know about your favorite foods to help you make the healthiest and most informed nutrition choices.
A liver detox, AKA a liver cleanse (or flush), is a program often used by people to flush out toxins in the body, help you
Read More →
From bread and pasta to cookies and snacks, flour is used in almost any food we eat today. Although flour made from wheat is the
Read More →
Grapefruit is not just a popular subtropical citrus fruit; it is an excellent source of vitamins, fiber, and other essential nutrients. Besides its distinct color
Read More →
When life gives you lemons … enjoy them! Lemons are packed with vitamins, minerals, antioxidants, and phytonutrients. They are excellent sources of vitamin C and
Read More →
Nutrition Realm
Get recipe guides, nutritional supplements, trending articles, and more by subscribing to our newsletter!
Our Nutrition Realm guides go beyond just telling you what the best supplements for your health are. These guides provide factual, informative insight on natural and artificial supplements, the latest diets, and family health. From herbal remedies to weight loss pills, there are hundreds of different methods available to complement a healthy lifestyle. 
Whether you are looking for the best pre-workouts or merely looking to learn about the paleo diet, our guides will provide you with all the facts you need.
When it comes to herbal supplements, then there is plenty that you should know. Herbal supplements have been shown to have various health benefits, including
Read More →
Herbal supplements have been shown to provide stress relief, which can be helpful for hunters who are looking to de-stress before their next big hunt.
Read More →
College can be stressful. There's a lot on a college student's plate, from exams and papers to social obligations and extracurriculars. But what if there
Read More →
When you want to relax, fishing can be the perfect activity. But what do you do when even fishing can't help you shake off stress?
Read More →